Gov. Evers Signs Environmental TIF Legislation Into Law  
New law will help communities eliminate blight and spur redevelopment of contaminated properties
Last week, Governor Tony Evers singed the Environmental Remediation and Redevelopment Bill (SB 518) into law as 2021 WI Act 149. The new law, which was a top priority for WEDA during the 2021-22 legislative session, will allow local communities to more effectively utilize Environmental Remediation Tax Incremental Districts (ERTIDs) to revitalize contaminated properties and spur redevelopment.
Under previous state law, Wisconsin communities could utilize an ERTID to cover capital costs, as well as financing and professional services costs associated with the investigation and removal of pollution from the environment, including the ground and water in the TID.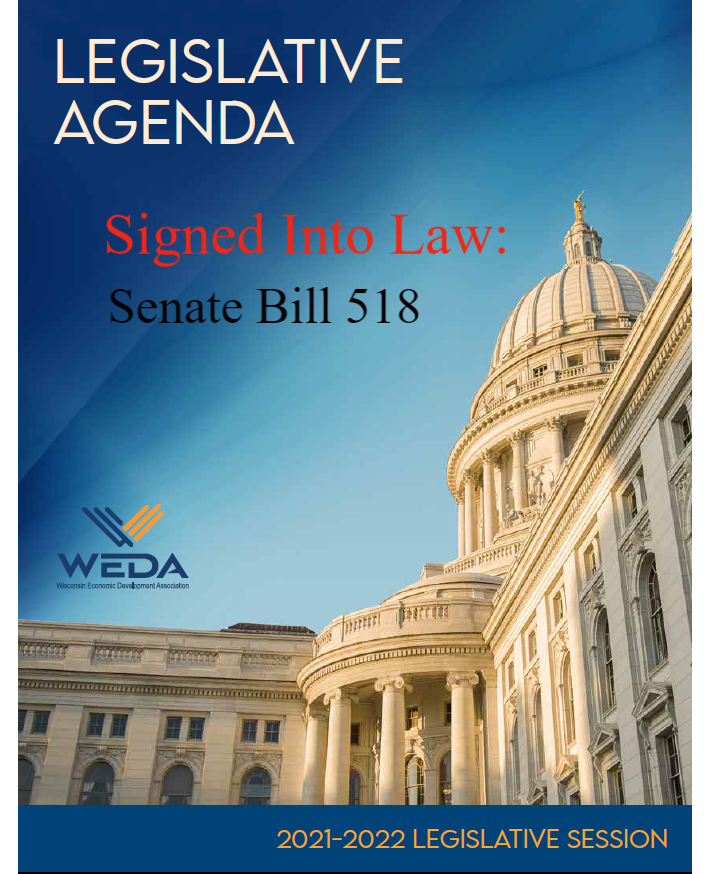 However, communities could not use an ERTID to address environmental pollution within existing structures, as the demolition or redevelopment of contaminated buildings were not an eligible ERTID project cost. 2021 WI Act 149 remedies this issue by modifying TIF law to qualify the redevelopment or demolition of exiting structures contaminated with harmful substances as an eligible ERTID project cost. While the change is small, the economic development impact of the bill will be substantial, providing communities with a narrow, yet effective tool to encourage the redevelopment of contaminated structures and create new economic opportunities.
Older buildings are often contaminated with hazardous materials, such as asbestos, lead, and other heavy metals. These contaminants can create a significant barrier to the redevelopment of these structures due to the increased challenges and costs of environmental clean-up. As a result, these sites can remain vacant for decades, contributing to blight and diminished property values in communities across the state. The recently signed law provides communities across the state with a key tool to help address this problem.
It is also important to point out the new law could help promote the development of much-needed workforce housing across the state. A growing trend in Wisconsin and across the country is the conversion of aging, vacant buildings, such as schools, churches, and even medical clinics, into affordable workforce housing, giving these buildings a second shot at serving their communities. ERTIDs can now be used to create these additional housing options.
Lastly, WEDA members should remember that a community's first ERTID is exempt from the state's 12% TIF limit, In other words, 2021 WI Act 149 also provides communities with greater TIF flexibility.
WEDA would like to thank the bill's authors – Sen. Rob Cowles (R-Green Bay) and Rep. Dave Armstrong (R-Rice Lake) – for introducing this important economic development bill and Gov. Evers for signing it into law.
---
Legislature Passes Veteran Talent Attraction Bill
Earlier this week, the Wisconsin Senate passed Assembly Bill 888 to help address Wisconsin's growing workforce shortage crisis by funding a comprehensive talent attraction program that focuses on military veterans and their families. The bill, which is a top WEDA legislative priority, passed the Assembly in February. The bill will now be sent to Gov. Tony Evers, who can either sign the bill into law or veto it.
The legislation directs $10 million from the state's share of federal American Rescue Plan Act funds to the Wisconsin Economic Development Corporation (WEDC) to market Wisconsin as a great place to live and work for U.S. service members and their families who are transitioning to civilian life. Almost 200,000 service members leave the military each year, and these new veterans often have the skills, training, and leadership qualities needed to help address Wisconsin's talent gap and provide businesses with an expanded employee pool.
"The biggest challenge facing Wisconsin businesses today is the state's labor shortage and their inability to find enough workers to fill open jobs. It has unfortunately reached a crisis point and is threatening Wisconsin's future economic growth," said Mary Perry, WEDA President and CEO. "This bill would strengthen the state's talent attraction program and renew efforts to bring highly-trained, experienced military veterans to Wisconsin."
WEDC's past talent attraction efforts have shown to effectively promote Wisconsin as great place to move to for career opportunities and a better quality of life. Assembly Bill 888, if signed into law by the governor, will provide a much-needed boost to the state's talent attraction initiative and help ensure it continues to be a highly valuable talent development tool.
WEDA would like to thank the bill's authors Rep. Nancy VanderMeer (R-Tomah) and Sen. Eric Wimberger (R-Green Bay) for their leadership on this important legislation.
---
Workforce Housing Tax Credit Legislation Builds Momentum for Next Session 
Late last year, the Assembly passed Assembly Bill 156, legislation that would have created a Wisconsin Workforce Housing Tax Credit to encourage the development of modern, affordable multi-family housing projects for younger professionals and middle-income workers and their families. 
Unfortunately, the legislation got bogged down in the state Senate due to fiscal and political concerns. Given the Legislature has adjourned for the current legislative session, the bill will not pass and will have to be reintroduced next year. The good news is the bill did receive a public hearing before a key Senate committee earlier this month, which will help build momentum for the proposal when the Legislature reconvenes in 2023.
WEDA would like to thank Chippewa County Economic Development Corporation President and CEO Charlie Walker for testifying on the bill before the Senate Financial Institutions and Revenue Committee. He did a tremendous job making a case for this important legislation that would have created a $42 million workforce housing tax credit that focuses on the so-called "missing middle" of the housing spectrum – multi-family housing for individuals and families earning between 60 percent and 100 percent of area median income.
Although AB 156 did not pass this session, there is good news on the workforce housing front. The Legislature did approve the following two workforce housing bills over the past few weeks, both of which are supported by WEDA:
Senate Bill 629 – Would create a certified shovel-ready workforce housing development site program administered by WEDC.
Assembly Bill 607 – Would create a low interest loan program to upgrade eligible single-family homes built before 1980 that need rehabilitation.
These bills will now be sent to Gov. Evers for final consideration. WEDA will encourage him to sign the proposals into law.