Jan. 31, 2020
In This Edition…
President's Message
Executive Director's Corner
WEDC Bulletin
Wisconsin Economic Development Academy Update
WEDA Legislative Update: 2019 Recap
Guest Column – DWD Secretary Caleb Frostman: Prioritizing Wage Growth Pays Dividends
Project Spotlight: New Business Opens Doors in Green Bay Rail Yard District
Welcome New WEDA Members
---
President's Message: Matt Mikolajewski
As I closeout my tenure as your WEDA President, I would like to take a moment to pass along some important notes of appreciation. First, to the WEDA Board and individuals who served on WEDA committees throughout the year. As economic development practitioners, all of our time is over-booked, and yet, so many of our members step-up and are willing to help the organization. I would like to thank all of our financial sponsors for continuing to recognize and invest in WEDA's work. Our contracted staff, especially Kathy Heady, Kathy Davies, and Mike Harrigan enhanced the strength of WEDA's programming throughout the year. Finally, Brian Doudna and Michael Welsh devoted the skill and time needed to further grow the benefit and influence of WEDA throughout 2019. Serving as your President has been an enjoyable experience because of all the hard work of these other individuals.
Throughout 2019, WEDA continued to expand the influence of the organization over Statewide economic development efforts, while providing tools and resources to better serve individual members in their home communities. At our fall conference, we welcomed an unprecedented six State agency heads. On numerous occasions throughout the year, we were called upon by Legislators and other organizations to share our thoughts on pending legislation. We now firmly have a seat at the table in the Capitol thanks to the great work of our staff and the support of many WEDA members.
For individual members, our education offerings were expanded in 2019 with Academy sessions on very timely topics including workforce housing, TIF, development agreements, redevelopment, and food systems. Best of all, WEDA became a certified education provider through the National Development Council. As a result, most of our course offerings will satisfy continuing education requirements for the upcoming EDFP recertification. Check-back often on the WEDA website for another robust year of Academy course offerings in 2020.
Our upcoming Governor's Conference on Economic Development in Madison promises to expand how we view economic development within our communities; what we focus on and how we approach our work. The theme of Social Impact Investing will draw new attendees to the conference from foundations and community based organizations. Economic Development is a team sport. We will continue to become a better, more impactful organization by adding new members to the WEDA team, and I welcome a great number of first time conference attendees in early February.
What would you like to see in the way of future conference themes, Academy topics, and advocacy at the Capitol? As a WEDA member, this is your organization. I encourage you to participate, volunteer, and contribute. I wish our new President and WEDA's leadership continued success in the New Year! I look forward to the upcoming year for WEDA and will enjoy seeing you all soon in my capacity as a Past President.
---
Executive Director's Corner: Brian Doudna, EDFP
With a new year brings new opportunities for WEDA, as we strive to provide the greatest return for your membership dollar by providing services, advocacy and educational workshops that help bridge gaps in bringing needed resources to your community and projects.
A primary organizational focus this year will be to align the charitable, educational and research efforts of WEDA's Foundation (Wisconsin Economic Development Institute) with key projects of the Association. This will be formalized in a services contract that will benefit both organizations and advance the goals of economic development.
Other exciting things happening at WEDA in 2020, include:
NDC Training coming March 10 in Milwaukee
In cooperation with the National Development Council (NDC), WEDA will be hosting a one-day workshop on March 10, 2020 at the Greater Milwaukee Foundation on Mixed Use Development. This curriculum will be provided by Tom Jackson of the NDC and is sponsored in part by WEDC and WHEDA. Registration will open shortly. For those with the EDFP designation, this program is designed to help you with your recertification process. Also, please remember that WEDA is a certified NDC trainer, so that the conferences and our Academy programs are also eligible for recertification points.
MOU with American Indian Chamber of Commerce of Wisconsin
In 2020, WEDA will be launching the Economic Prosperity Planning for Wisconsin Tribes. This series is in partnership with three Native American organizations (WIBA, GLITC and the AICCW-FACC). Having participated in several Native American programs over the past several years, empowering Native American Tribes to access and fully utilize economic development tools is critical to advance each nation's economic prosperity. As you can imagine, this effort will use some foundational programming from economic development best practices but will be customized for the different structures, programs and process utilized or available to tribal nations and organizations in Wisconsin.
CRA (Community Reinvestment Act) Network – Conducting Research on Barriers
This year's Governor's Conference on Social Impact Investing will work to provide different models that embraces investments to advance social impacts, including broadband models that have been implemented through involvement of financial institutions as part of their bank's CRA strategy. In addition, WEDA will implement a research effort that will be undertaken in concert with our foundation to gain the voice of Community Development Agencies in identifying specific gaps in various markets across Wisconsin that align with the eligible activities of the Community Reinvestment Act.
The Wisconsin Economic Development Association is working daily to become the organization and the association that you deserve as a partner to grow your great communities and our great state! We need your help in advancing awareness of our programs and services. I hope that together, we will be able to grow WEDA's membership because of the valued services that we bring to our chosen field.
---
WEDC Bulletin
An Economic Development Update from the Wisconsin Economic Development Corporation
Menomonie business wins Main Street Makeover Contest
Ted's Pizza Palace in downtown Menomonie has been named the winner in the Wisconsin Economic Development Corporation's (WEDC's) annual Main Street Makeover Contest.
The restaurant, celebrating its 50th Anniversary in 2020, is a well-known local dining destination owned by Jim and Kim Gounaikis. A downtown mainstay, the restaurant was selected as the winner of the makeover contest based on the business's successful track record, clear community support and the potential to refresh the interior and exterior of the building to create an enhanced dining experience that will serve the business for the next 50 years as the restaurant transitions to a third generation as son Zach becomes more involved in the business.
Ted's Pizza will receive personalized technical assistance and up to $10,000 to implement the changes, which will include interior improvements to renovate the dining area and improve customer flow, as well as exterior enhancements to increase visibility and pedestrian engagement. The goal of the makeover is to update the building and reinforce the restaurant's brand for new visitors to Menomonie.
---
Milwaukee Tool expanding Wisconsin footprint
Gov. Tony Evers, together with senior leaders of Milwaukee Tool, local government officials, and regional economic development officials, announced that the company will be expanding its footprint in southeastern Wisconsin with a new campus in Menomonee Falls. Gov. Evers also announced that Milwaukee Tool will be expanding its Imperial Blades manufacturing operation in Sun Prairie.
Milwaukee Tool's investment will lead to the creation of 870 new jobs by 2025. Milwaukee Tool expects to invest over $100 million to construct and outfit the Menomonee Falls campus, which will complement the company's current Global Headquarters campus in Brookfield. Milwaukee Tool will also invest $7.5 million to expand its Imperial Blades subsidiary in Sun Prairie.
Since 2016, Milwaukee Tool has pledged to create up to 1,812 new jobs and invest $174.5 million in capital expenditures in Wisconsin over a five-year period. If it meets those benchmarks, the state will provide up to $46 million in tax incentives. According to WEDC's economic modeling, those 1,812 jobs will directly generate about $7.2 million annually in state income taxes.
---
WEDC supports John Deere project to expand, add jobs
The Wisconsin Economic Development Corporation (WEDC) has authorized up to $250,000 in state income tax credits over three years for a project at John Deere Horicon Works. The company plans to invest $24 million to expand its manufacturing space and add 12 jobs over the next three years.
The actual amount of tax credits Deere & Company will receive is contingent upon the number of jobs created and the amount of capital investment during that period.
Deere's $24 million investment will add a 22,000-square-foot building and new equipment to improve cycle time of key business operations. In addition to the 12 jobs expected to be created by Deere & Company, an economic modeling study estimates the project could indirectly generate 14 additional jobs in the region. Those 26 total new jobs are expected to have an annual impact of $39,002 in state income taxes.
---
City of Shell Lake receives $250,000 state grant to support renovation of medical center
The City of Shell Lake is receiving a $250,000 state grant to help fund the remodeling of the Indianhead Medical Center (IMC) hospital and the renovation of the attached Shell Lake Clinic located in downtown Shell Lake.
Indianhead Medical Center (IMC) is a privately-owned 25-bed critical access hospital with a 24-hour emergency room and is accredited by the Joint Commission. The center has aided the community since it opened in 1947, and today offers services such as medical testing, consultation and rehabilitation, general surgery, urology, cardiology, podiatry, orthopedics, radiology and more.
The Community Development Investment Grant from the Wisconsin Economic Development Corporation (WEDC) will support the construction of a new 9,000-square-foot clinic building, an ambulance garage, a new sidewalk and street paving including a new parking lot, and the remodeling of the current emergency room and operating rooms. This project will be consolidating government and medical services at one central location in the heart of Shell Lake and is expected to be completed by June of 2020.
---
Door County boutique hotel breaks ground
Wisconsin Economic Development Corporation (WEDC) Deputy Secretary Sam Rikkers along with developers and state and local officials broke ground on the new Dörr Hotel in Sister Bay.
The Dörr Hotel project is Door County's first hotel development in nearly 20 years, and is intended to complete the Sister Bay downtown area by developing a lot that has been vacant for more than nine years. The new boutique hotel consists of 47 rooms and 4,300 square feet of retail space.
WEDC is supporting the $8.1 million project with a $250,000 Community Development Investment Grant. The project is expected to be completed by the end of 2021 and to provide full-time employment for 10 to 15 employees.
---
Wisconsin Economic Development Academy Update: Kathy Heady, Academy Manger
The snow is falling so it must be almost time for the annual Governor's Conference on Economic Development. I hope you will consider coming early and joining us for the Academy program, Financing Workforce Housing: Exploring Program Options and Opportunities. The Program is being held on February 5 from 9:30 a.m. to 3:30 p.m. at the Madison Club. It will focus on exploring financing structures of successful workforce housing projects through a case study approach. Case studies will be presented by:
Seth Hudson, EDFP, Senior Manager of Economic & Community Development Services, Cedar Corporation with Megan Schuetz, Real Estate Developer, Movin' Out, Inc.
Ted Matkom, Wisconsin Market President, Gorman & Company or Nicole Solheim, Director of Development, Gorman & Company
Abby Attoun, Director of Planning and Community Development, City of Middleton
Jacob Klein, President, JT Klein Company, Inc.
Donald N. Bernards, CPA, Partner, Baker Tilly
Fred Hebert, Executive Director, Central Wisconsin Community Action Council, Inc
In addition, Steve Apfelbacher, Partner, H & A Advisors, LLC and Michael C. Harrigan, Partner, H & A Advisors LLC will present information on a new financing strategy and participants will have an opportunity to participate in tabletop discussions over the lunch hour.
The Financing Workforce housing program is the second in a series of 4 programs the Academy is holding on workforce housing.
The well attended first session, a webinar – Workforce Housing: Framing the Issues and Opportunities was held in December. The third program, a webinar, Spurring Single Family Residential Investment, Tools for your Market will be held on April 28. This program will focus on single family residential investment, including options for spurring new development. The final program in the series, Workforce Housing: Identifying Local Needs, Municipal Tools and Zoning Practices will be held on June 3 in Appleton. This course will focus on methods of examining local housing needs and gaps, best practices in permitting and the development approval process, and innovations in zoning and municipal tools to encourage the development of workforce housing. Registration is open. Please visit the WEDA website to register.
In addition to the housing series, the Academy will be featuring three programs on Workforce Development, including a webinar on community strategies – Dealing with Barriers to Employment: Sustainable Best Practices, and the International Economic Development Council (IEDC) Course Workforce Development Strategies on August 6-7.
Two additional webinars will be held in 2020, one on fiscal and economic impact tools and one on the fundamentals of business retention.
The full Academy program for 2020 can be found here: http://www.weda.org/spotlight/academy/
Please look for me at the Governor's Conference. Share your ideas for Academy programs or volunteer to be an instructor. I look forward to your input. I can also be reached at kheady@weda.org.
---
WEDA Legislative Update: 2019 Recap
WEDA is the primary voice promoting the interests of economic development professionals in Wisconsin. That responsibility includes working with legislators and other state policymakers to advocate for policies that help build a strong business climate and drive economic prosperity.
In 2019, WEDA remained committed to a comprehensive legislative affairs program to shape policies and programs important to our members. Despite a challenging new political landscape that included a new governor, changes in state agency leadership and split government, we were able to make progress on our legislative agenda aimed at creating an ideal environment for economic growth and sustainability.

To date, of the 1,500-plus bills that have been introduced in the current legislative session, less than 5% have been signed into law. Despite those odds, WEDA recently saw one of its top legislative priorities enacted into law.
Senate Bill 319, which restores the state's Transportation Economic Assistance Grant program's long history of awarding project funds for both job creation and job retention, was unanimously approved by the Legislature and signed by Governor Tony Evers in November as 2019 WI Act 63.
The program has provided more than $110 million in grant funding since its inception for transportation improvements critical to economic development. Unfortunately, it was weakened after the Department of Transportation determined it did not possess the statutory authority to provide grant funding for jobs retained – and going forward could only support projects that create new jobs.
Passage of SB 319 ensures the TEA Grant program continues to provide grants for projects that retain jobs in Wisconsin, sustaining the success of a program that has helped fund road, rail, harbor and airport improvements that have resulted in the creation of over 27,000 new jobs and the retention of more than 19,000 jobs.
We're also hopeful it will serve as a catalyst to encourage policymakers to equally value job retention and job creation in all economic development programs.
WEDA was also pleased with the outcome of the 2019-21 state budget bill. In addition to increased funding for key workforce development programs and rural broadband expansion, several provisions were removed from the bill that would have negatively impacted economic development, including:
Limiting Tax Incremental Financing (TIF) developer grants to 20% t of a TIF district's total project costs;
Reducing the manufacturing portion of the Manufacturing and Agriculture Tax Credit; and
Capping the Enterprise Zone Tax Credit program to a total of 35 zones statewide.
All this is certainly great news, but the legislative session remains in full swing and WEDA is still working on several legislative initiatives to provide communities and employers additional tools to attract private investment and encourage workforce housing development, including:
AB 532 / SB 440 – Wisconsin Opportunity Zone Enhancement Act
This legislation would enhance Wisconsin tax benefits under the federal Opportunity Zones program to help attract additional private investment to the state' most economically challenged communities. The legislation recently received a public hearing before a key Senate legislative committee and will be heard by the Assembly Ways and Means Committee next week.
AB 544 / SB 484 – Workforce Housing Pilot Program
This bill (as amended) would create a two-year, $10 million workforce housing pilot program administered by WHEDA to encourage the development of workforce housing in rural communities. Under the program, WHEDA will award grants, loans, loan guarantees, or other forms of financial assistance to designated communities in rural counties.
The bill has been passed by the Assembly and is under further consideration in the Senate.
Local Workforce Housing Incentive Bill
This recently introduced legislation includes numerous provisions to spur workforce housing development at the local level. The bill would increase the of amount of residential development permitted in a "mixed-use" TIF district, as well as expand from one year to three years the length of time a community may extend the life of a TIF district for the purpose of boosting workforce housing.
Workforce Housing Sales Tax Exemption Legislation
This legislation, which was recently introduced, would create a sales tax exemption for building materials, supplies and equipment purchased for the construction of workforce housing.
To sum it up, 2019 was a busy time in the State Capitol for WEDA, with a handful of key successes we hope to build on in 2020 before the Legislature adjourns for the year.
---
Guest Column: Prioritizing Wage Growth Pays Dividends

By Department of Workforce Development Secretary Caleb Frostman
Much to the chagrin of my team at the Department of Workforce Development (DWD), I usually start presentations and meetings with a cheesy ice breaker or a marginally funny joke. A joke I use often, which gets a laugh about a third of the time (just enough to keep using it), is that I'm a recovering banker. Having spent a decade financing commercial real estate, there's some truth to the mildly amusing statement.
Although I have moved on from banking, my time there permanently shifted my focus to achieving the highest possible return on investment (ROI), whether that was time, energy, or money. This lens was shaped while analyzing loans' profitability to the bank's shareholders, as well as which factors had the greatest impact on our risk (rental rates, occupancy, cap rates, etc.).
Disciplined prioritization of the highest ROI has followed me through work in economic development, the legislature, and now workforce development, purposefully targeting time and resources to the most impactful programs and activities.
Having been intimately involved in workforce efforts since my time at the Door County Economic Development Corporation, the workforce shortage has been the most commonly discussed opportunity for driving economic growth, and effectively combatting it remains a top priority for DWD and for Governor Evers.
Widening our workforce net to reach nontraditional and marginalized populations through our work in reentry programming, vocational rehabilitation, with our veterans, and in career and technical education for our youth has proven fruitful for our state's workforce and our employers. Creatively expanding our workforce recruitment efforts will always be an integral component of our comprehensive strategy for strengthening Wisconsin's economy.
However, with so few Wisconsinites currently on the employment sidelines, DWD has increased our focus on wage growth as an effective strategy for economic expansion. Approximately 70% of GDP, the most common measure of economic health, is consumption – Wisconsinites buying groceries, clothing, going out to eat, and spending at local businesses, large and small.
Adding new folks to the workforce can and will provide previously unemployed Wisconsin residents newfound purchasing power, but with unemployment below 3.5%, far greater potential for economic growth lies in the consumptive power of the millions of Wisconsinites already working at our state's businesses.
Accordingly, DWD has invested considerable time, effort, and resources into proven programs like apprenticeship that result in solid wage growth. DWD has also updated our flagship training grant program, Wisconsin Fast Forward, to more heavily weight wage growth in the grant scoring process.
With greater purchasing power, the millions of working Wisconsinites are better able to support local businesses, invest in their communities, drive GDP growth, and create new and greater demand for goods and services, thereby providing new opportunities for businesses and entrepreneurs. Due to its outsized potential for driving economic expansion in an economy near full employment, prioritizing wage growth is an investment strategy worth banking on.
---
Project Spotlight: New Business Opens Doors in Green Bay Rail Yard District
The Rail Yard Innovation District of Green Bay, which won the Real Estate Redevelopment and Reuse award at WEDA's 2019 Community and Economic Development Awards (CEDA) ceremony, continues to spur business growth and economic prosperity in the Green Bay community.
The most recent business addition to the Rail Yard is Leighton Interactive, a B2B digital marketing company serving many businesses throughout the Midwest. The company celebrated their new office in the booming Rail Yard District at a January 28, 2020 ribbon-cutting event attended by numerous local officials and dignitaries.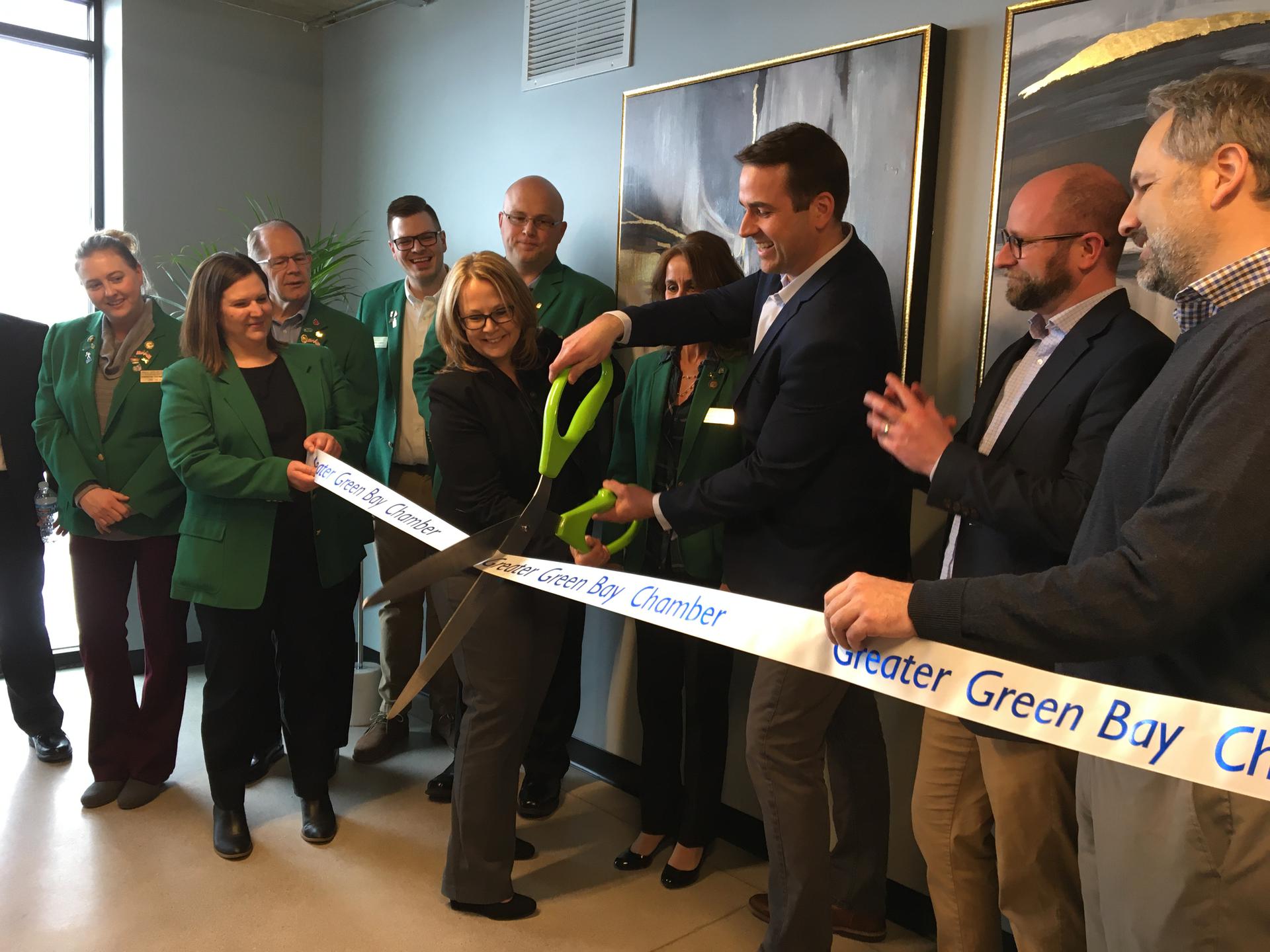 The Rail Yard has revitalized the city's downtown Broadway District, attracting employers, investors and consumers. The redevelopment project transformed the Larsen Canning warehouse property into the exciting Rail Yard Innovation District. The District includes multiple tech-forward, mixed-use buildings, which are home to 26 thriving businesses. The $31 million project, which retained 190 jobs and created 100 new jobs, was financed with private investment secured by tax incremental financing and state and federal tax credits.
The development is also in a federal Opportunity Zone, which allows investors to take advantage of tax incentives in exchange for making long-term investments in low-income communities.
In the coming months, Leighton Interactive will be looking to hire numerous employees, becoming just the latest Rail Yard tenant to create next generation, high-quality jobs that will continue to move Downtown Green Bay forward.
---
Welcome New WEDA Members
WEDA would like to welcome and thank the following new members for joining the Association:
Richard Baker – Kewaunee County Economic Development Corporation
Daniel Lindstrom – City of De Pere
Cole Rabska – Bayfield County Economic Development Corporation
Elizabeth Runge – City of Two Rivers
Kathy Schmitz – Vilas County Economic Development Corporation
Sydney Swan – Bay-Lake Regional Planning Commission