In This Edition…
President's Message
Executive Director's Corner
WEDC Bulletin
Wisconsin Economic Development Academy Update
Guest Column: DWD Secretary Caleb Frostman
WEDA Members Advocated for Key Policies at 2019 Legislative Day
Wisconsin Policy Forum: Tax Incremental Financing on the Rise
Welcome New WEDA Members
---
President's Message: Matt Mikolajewski
WEDA is off to a great start in 2019! Our Opportunity Zone Academy session and the Governor's Conference in February provided useful information and networking for our members, attracted some new faces to WEDA, and exceeded budgeted revenues. Our conference planning committee and WEDA staff should be commended for all their work on these events. A huge thank you is also due Kathy Davies, our conference coordinator.
Thank you as well to everyone who participated in our 2019 Legislative Day. It is clear that work on the next Biennium State Budget is likely to last well into the latter part of the year, with different iterations of policy changes impacting economic development to be brought forth and deliberated. WEDA is well-poised to contribute to the dynamic legislative debate that we are about to have. As a WEDA member, consider the organization to be a conduit for your voice. Legislators are very receptive to hearing specific stories about how an existing or proposed piece of legislation will impact their communities. Your ideas, concerns, and questions over the next several months will be extremely useful; please reach-out to us.
Do you currently have projects in your community in need of funding? Perhaps the CRA Network can help. The goal of the CRA Network is to match projects in need of investment with private lenders interested in helping to grow Wisconsin communities. Community Reinvestment Act (CRA) requirements place emphasis on activities that will support low and moderate income populations. Key to the success of the CRA Network is a pipeline of projects that WEDA can present to the lending community. As such, let us know if you are aware of any projects near you that could benefit from potential CRA support.
As this is my first WEDA Wire article, I want to take a moment to thank Heather Wessling for her great work in the role of President this past year. I also want to thank you for the honor of serving in this capacity and all the great support that WEDA has provided me. I first joined WEDA in 2004 at the encouragement of an existing WEDA member. Do you know someone who might benefit from WEDA membership? If so, suggest to them that they join today. "
---
Executive Director's Corner: Brian Doudna, EDFP
Performance Context to Add Value to Membership
Enhancing the value of a WEDA membership is always the focus of the WEDA Board and staff. The organization is very fortunate to have great staff leading efforts across the organization. For the first time in my tenure as Executive Director of WEDA, we have leaders of each service division of WEDA that are focused on outcomes. It is truly an exciting time for your Association with the skills of Kathy Heady, Mike Harrigan, Kathy Davies and Michael Welsh all focused on advancing our profession and the tools available to grow our communities.
The CRA Network is a new tool that is increasing the overall value of WEDA membership. Ultimately, the CRA Network is about breaking down barriers and building partnerships based on data, projects, initiatives and relationships
Starting in August, WEDA and the CRA Network will begin the process of implementing a statewide Performance Context service, (banking term), which will be able to be focused down to an individual county or the MSA level. This service will allow local officials and a diverse group of professionals to be part of an assessment survey tool identifying marketplace gaps, needs and opportunities. This service will enlist more than WEDA members to get a cross-section of the community and the needs of specific areas of Wisconsin.
The final step of the Performance Context service will be held at the regional CRA Network luncheons in the fall of each year (Nov. 2019). At those facilitated discussions, the results of the survey tool will be shared at the CRA Network Region level and discussed on how to meet the needs and opportunities found in the data.
The value of your WEDA membership and each of our lines of business will benefit from the Performance Context service. It will strengthen our conferences, academy and advocacy work, based on the data and dialogue at the regional luncheons. In closing, I ask that you join us for the spring meetings of the CRA Network. They are being held across the state and are free. The luncheon starts at Noon. Please register today!
April 2: Southwest Region – Register
Luncheon Speaker: Stuart Kuzik, WHEDA
Location: UW Richland – 1200 US-14, Richland Center
April 4: Southeast Region – Register
Luncheon Speaker: Paul Ginger, OCC
Location: Racine Civic Center / Sapphire Room, 5 5th St, Racine
April 10: Northwest Region- Register
Location: Chippewa Valley Technical College, 403 Technology Dr E, Menomonie
April 11: Southcentral Region – Register
Location: UW Research Park, 510 Charmany Drive, Madison
April 17: Northeast Region – Register
Location: Paper Valley Hotel, 333 W College Ave, Appleton
April 18: Northcentral Region- Register
Luncheon Speaker: Steven W. Kuehl, Federal Reserve Bank of Chicago
Location: Holiday Inn, Stevens Point
---
WEDC Bulletin
An Economic Development Update from the Wisconsin Economic Development Corporation
City of Prairie du Chien receives $250,000 state grant to support development of The Waterfront Hotel
WEDC awarded the City of Prairie du Chien a $250,000 state grant to fund the construction of a new downtown hotel—a $3.8 million project expected to be completed in August.
The Community Development Investment (CDI) Grant will support the development of the Waterfront Hotel, a three-story hotel which will have 57 rooms. The newly constructed hotel will sit on the riverfront of the Mississippi River, and will also be adjacent to the highway.
Sheckler Development LLC is undertaking the project and consists of husband-and-wife team Brian and Brittany Nichols, who were both born and raised in Prairie du Chien.
The 30,000-square-foot hotel is expected to create 12 new jobs and will serve to fill a gap in lodging in downtown Prairie du Chien. City officials believe this project will not only bring new jobs and enhance the tax base but will also encourage tourism and additional development.
---
Village of Cashton receives $112,500 state grant to support development of new day care facility
WEDC awarded the Village of Cashton a $112,500 state grant to redevelop a vacant office building into Cashton's Cradles to Crayons, a new day care facility.
The Community Development Investment (CDI) Grant will support renovations of a 3,600-square-foot office building including updating plumbing, installing new flooring and equipping the kitchen for food preparation. The project will also include building a 2,000-square-foot addition featuring an open concept classroom.
The Cashton's Cradles to Crayons day care facility will have capacity to care for 80 children, in age groups ranging from infants to 12-year-olds. The center will be licensed by the State of Wisconsin and will participate in the YoungStar Program, Wisconsin's child care quality rating and improvement system administered by the Wisconsin Department of Children and Families.
The new day care facility will serve to fill a child care gap in Monroe County. City officials stated that there are currently only five in-home child care centers in Cashton, of which only one is licensed.
---
Village of Mount Horeb receives a $250,000 state grant to support new dental complex
WEDC awarded the Village of Mount Horeb a $250,000 state grant to help finance the construction of a multi-specialty dental and health complex—a $2.6 million project located in downtown Mount Horeb.
The Community Development Investment (CDI) Grant will support the development of a 10,800-square-foot multi-tenant complex that will provide residents of Mount Horeb and surrounding communities with all their dental needs in one convenient location.
Owners of the multi-specialty complex believe the complex will provide a convenient location for residents of Mount Horeb and surrounding communities. With the new location being close to an interstate exit, they hope it will help attract patients from other communities to seek specialty appointments that otherwise would not be available to them, and in turn bring more business to the village.
---
Bernatello's Pizza expands operations in Kaukauna
Bernatello's Pizza, a frozen pizza manufacturer and distributor, is expanding its facility in Kaukauna—a $24 million project expected to create 48 jobs over the next three years.
Bernatello's recently undertook a 30,000-square-foot expansion to the company's Kaukauna facility, which includes a new high-speed double pizza topping line, to increase efficiency and strengthen the company's market position.
WEDC is supporting the project by authorizing up to $350,000 in state income tax credits over the next three years. The actual amount of tax credits Bernatello's will receive is contingent upon the number of jobs created and the amount of capital investment during that period.
---
Conagra Brands expanding Birds Eye Foods operations in Beaver Dam
Conagra Brands, a leading branded food company in North America and owner of Birds Eye, a leading brand in frozen vegetables, is expanding operations at its Beaver Dam facility—a project expected to create about 140 full-time jobs over the next five years.
Conagra Brands plans to invest approximately $78 million to modernize and expand the current 350,000-square-foot cold storage and vegetable packaging facility on Green Valley Road, which supports the Birds Eye frozen vegetables operation. The Birds Eye operations are supported by almost 800 employees at both the Beaver Dam and Darien plants in Wisconsin.
WEDC is supporting the expansion by authorizing up to $750,000 in state income tax credits over the next five years. The actual amount of tax credits that Conagra Brands will receive is contingent upon the number of jobs created and the amount of capital investment during that period. Like all tax credit awards, the company must first create the jobs and make the capital investment before receiving the credits.
---
WEDC awards nine grants to support entrepreneurship programs throughout Wisconsin
WEDC announced today that nine organizations have been awarded a total of $500,000 in grants to help develop or expand innovative programs aimed at advancing the climate for entrepreneurship throughout the state.
The grants are being awarded as part of WEDC's Entrepreneurship Support Program, which is now in its third year. The grants will help fund activities that promote entrepreneurship or deliver education, training and other resources to assist new and aspiring business owners. More than 400 entrepreneurs are expected to receive services through a wide variety of initiatives.
The grant recipients are:
BrightStar Wisconsin Foundation of Milwaukee ($55,000) will organize and host three iterations of the successful HATCH entrepreneurial pitch program in three regions of Wisconsin, for a total of nine events.
Oconto County Economic Development Corporation of Oconto ($40,000) will promote and assist in new business formation and accelerate business growth in Oconto County.
Green County Development Corporation of Monroe ($80,000) will promote and assist in new business formation and accelerate business growth in Green and surrounding counties. The program is projected to engage more than 900 individuals and create 15 to 17 new businesses.
Couleecap Inc. of Westby ($70,000) will support its multi-agency plan to provide and expand entrepreneurship services in the region creating up to 35 new businesses.
Indianhead Community Action Agency Inc. of Ladysmith ($41,000) will provide technical assistance resources to entrepreneurs in 12 rural northwest Wisconsin counties.
Concordia University of Mequon ($59,000) will provide an innovative cohort-based education program to low-wealth communities in Milwaukee with the partnership of BizStarts.
Janesville Innovation Inc. of Janesville ($40,000) will build and expand the Rock County Entrepreneurial Business Development Program, which provides customized technical assistance to startups and scaling growth companies in Rock County.
UW Health Innovation Hub of Madison ($75,000) will create a "hub" to gather innovative ideas and solutions directly related to patient and health system challenges, and to enable those ideas to advance by providing resources in product development, legal and accounting services.
Western Dairyland Economic Opportunity Council Inc. of Eau Claire ($40,000) will provide business development services to underserved and disenfranchised populations in western Wisconsin.
---
Wisconsin Economic Development Academy Update
By Kathy Heady – Manager, WI Economic Development Academy
A big thank you to our members who expressed an interest in either serving as a presenter or suggesting other speakers we should consider for Academy programming. We are busy planning three spring/early summer webinars as well as comprehensive in-depth programs.
Our first Academy webinar, Tax Incremental Financing Fundamentals, has been scheduled for April 30 from 1:30 to 3:00 p.m. If you are new to Tax Incremental Financing (TIF), have board members or local officials that would benefit from an introduction to the fundamentals of TIF, or if you need a refresher on current requirements, I encourage you to register.
Dawn Gunderson Schiel, CIPMA, CPFO, Senior Municipal Advisor/Vice President and Greg Johnson, CIPMA, Senior Municipal Advisor/Vice President at Ehlers & Associates, Inc. will serve as the webinar instructors. Ehlers is a leading TIF consultant in Wisconsin, having been involved in the creation of Tax Increment Districts since the program's inception in 1976. From 2009-2018 alone, Ehlers has created or amended 519 TID's in Wisconsin. Registration will open shortly.
Planning is underway for an in-depth comprehensive Academy program on Redevelopment Strategies. The program will be held the morning of July 17 in Milwaukee just prior to the opening of the Mid-America Economic Development Council 2019 Best Practices conference. This will be a great opportunity to build your skills and interact with economic development professionals from the greater region. Registration for both the program and conference will be available in early April.
As we continue with Academy planning efforts, suggestions on topics and speakers are always welcome at kheady@weda.org.
---
The People's Budget: An Investment for All of Us
By DWD Secretary Caleb Frostman
Perhaps it's due to my family's background in construction, or the decade I worked in finance, but the more I dig into Governor Evers' 2019-2021 proposed budget, the more I am inspired by its aim to rebuild our state's economic infrastructure and the strategic prioritization of investing where Wisconsin taxpayers will earn the highest return.
From the first increase in the minimum wage in a decade to the $400 million tax cut for the middle class, the People's Budget is a clear statement of Wisconsin's values, which were heard consistently at listening sessions throughout the state.
The People's Budget makes rebuilding our economic infrastructure a priority – our schools, roads, and telecommunications systems have been neglected for far too long. By investing where it is needed most, we will level the playing field for all, while also achieving the highest return on our investment.
Unsurprisingly, Governor Evers clearly understands our schools provide the foundation for a functioning society and a strong, resilient economy. Prioritizing investment in our education system positions our state for continued economic growth.
With this investment, Wisconsin will graduate smart and savvy citizens with the skills necessary to succeed in our economy, either as workers, managers, or entrepreneurs, and to ensure those vital educational opportunities are presented to every student in Wisconsin, regardless of means, location, or ability.
All Wisconsin families and businesses will benefit immensely from improved roads. With a well-maintained and sustainably-funded transportation system, Wisconsin businesses can efficiently get supplies in and products out of our state, tourists are more likely to return to Wisconsin, and our families will have more disposable income that won't be spent on vehicle repairs due to crumbling roads.
Wisconsin's lack of connectivity, especially in rural areas, has been an equality of opportunity issue for our residents for far too long. With expanded and improved broadband connectivity, our state's businesses, regardless of location within Wisconsin, can market their products as efficiently as their global competitors, our rural students can finally complete the same homework assignments that their urban counterparts have been accessing for years, and some of our state's most marketable regions will now be able to compete for telecommuters and new businesses that previously could not due to lacking connectivity.
The People's Budget also increases the minimum wage for the first time in a decade. If a Wisconsinite gives their time and energy to a 40-hour work week, they deserve a dignified life in return and that starts with a dignified wage.
This budget takes steps to return Wisconsin to its progressive roots. And when using "progressive," I'm not talking from a partisan perspective; I'm talking about making actual progress; about moving our state forward for the first time in too long. It hits back against the unprompted attacks on the middle class over the last eight years that only special interests asked for – it restores prevailing wage, repeals right to work, and gets rid of the one-week wait for unemployment claimants who are out of work through no fault of their own.
The People's Budget is a clear articulation of our state's values: That what's good for our kids is good for our state. That the best way to accelerate the virtuous cycle of spending that drives our economy is to invest in our economic infrastructure, not in tax breaks for millionaires. That if you put in the work, you are entitled to the dignity and quality of life afforded from a living wage. That after eight years of divide and conquer politics catering to big money and special interests, we need a Wisconsin for all of us.
---
WEDA Members Advocated for Key Policies at 2019 Legislative Day
The 2019 WEDA Legislative Day is in the books – and by all accounts, it was another successful event. Over 50 WEDA members traveled to Madison to learn about today's most pressing economic development legislative issues and were trained on how to be an effective advocate for the economic development profession.
After a busy morning of issue briefs, advocacy training and hearing from several speakers – including the Chairman of the Assembly Workforce Development Committee and the WI Department of Revenue Secretary – WEDA members descended on the State Capitol to meet with their lawmakers to brief them on WEDA's legislative priorities.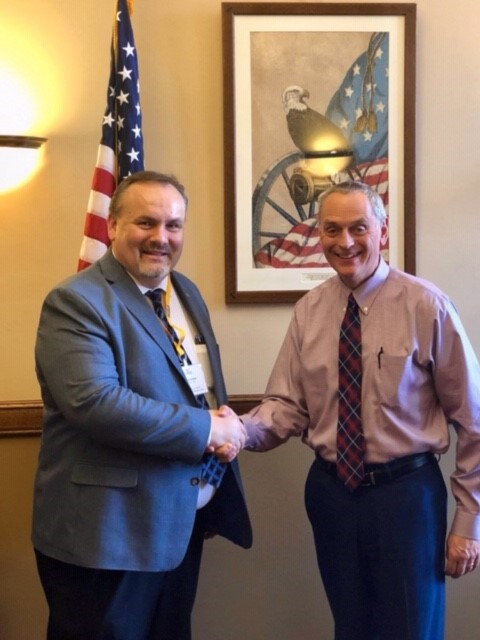 Legislative issues discussed with lawmakers included WEDA's concerns over a handful of provisions included in Gov. Tony Evers' state budget bill that would significantly diminish key economic development tools, such as Tax Incremental Financing and the Manufacturing and Agriculture Tax Credit. Other issues discussed with lawmakers included talent attraction, workforce housing and legislation to close the dark store property tax loophole in Wisconsin.
More specifically, WEDA members advocated for policies outlined in the following WEDA Issue Papers that were shared with legislators:
Legislative Day was an exciting event that afforded WEDA members a unique opportunity to build and strengthen relationships with their local legislators and allowed the association to raise its profile in the State Capitol.
If you were not able to attend this year's event, we certainly look forward to your participation at the 2020 WEDA Legislative Day. In the meantime, please feel free to follow WEDA's legislative activity on our Bill Tracker tool.
---
Wisconsin Policy Forum: Tax Incremental Financing on the Rise
Last month, the Wisconsin Policy Forum – a statewide nonpartisan, independent policy research organization – issued a research report on tax incremental financing. The report provides a concise, yet highly informative overview on how Wisconsin municipalities use TIF to drive local economic development.
Click on the following link to read the full report: Tax Incremental Financing on the Rise: How Do Municipalities Use Their Primary Development Tool?
---
Welcome New WEDA Members
WEDA would like to welcome and thank the following new members for joining the Association:
Michael Brown, Town of Greenville
Amy Connolly, City of Racine
Ryan Kernosky, Village of Plover
Jason Stringer, PACE Wisconsin

Wyman Winston, Neighborhood Wealth