In This Edition…
President's Message
WEDA signs MOU with the American Indian Chamber of Commerce of Wisconsin
Executive Director's Corner
WEDC Bulletin
Wisconsin Economic Development Academy Update
Guest Column: Wisconsin State Representative Dave Murphy
WEDA Legislative Update
Forward Analytics Releases New Report – An Economic Evolution: Job Growth, Pay and Education Since 2012
Welcome New WEDA Members
---
President's Message: Matt Mikolajewski
I hope this message finds you enjoying summer! It was great to see some of you recently at the "Impact through Redevelopment" Academy course in Milwaukee. A note of thanks to Kathy Heady for organizing the session and to Kathryn Berger, Kristen Fish-Peterson, and John Stibal for presenting. The Academy course, coupled with the Mid America EDC Conference, attracted attendees from around the country, planning and economic development practitioners new to WEDA, and our own WEDA members. This was a great example of how WEDA continues to grow in our partnerships with aligned professional organizations.
This idea of partnership extends to the recent action of the WEDA Board of Directors to execute a Memorandum of Understanding (MOU) with the American Indian Chamber of Commerce (AICCW) and First American Capital Corporation (FACC). The MOU will allow us to partner on technical assistance requests on enterprise, economic and business development efforts by Native American communities statewide. Stay tuned for more information in the months ahead.
What is happening in the Capitol Building? Michael Welsh, WEDA's Director of Legislative Affairs and Communication, continues to monitor the outcomes of the recently adopted State Budget and potential action on bills in upcoming Legislative sessions. The WEDA website includes a lot of great information about potential legislation, and I encourage anyone to contact Michael at any time with questions or concerns.
Fall is going to be here soon and there will be some great education and networking opportunities that you won't want to miss. First, our annual Community and Economic Development Awards ceremony will be held in Madison on September 11th. Our Fall Conference will then be held from
October 2nd – 4th in Stevens Point. We will kick-off the conference Wednesday morning with a separate "Entrepreneurial Food and Agriculture Enterprises" workshop. This will be followed by a great tour of Stevens Point-area food and beverage businesses and the opportunity for some
golf networking. The conference then starts Thursday with a record seven (7) State agency secretaries available to discuss your economic development concerns!
The WEDA website includes more information about both events.
I look forward to seeing many of you this fall. In the meantime, please don't hesitate to contact me at any time with questions or suggestions at (866) 766-7578 or mmikolajewski@cityofmadison.com.
---
WEDA signs MOU with the American Indian Chamber of Commerce of Wisconsin
Earlier this month, as part of an ongoing commitment to expanding Wisconsin's economy through effective partnerships, the Wisconsin Economic Development Association (WEDA) signed a Memorandum of Understanding (MOU) with the American Indian Chamber of Commerce of Wisconsin-First American Capital Corporation (AICCW-FACC) to advance community and economic development across the state.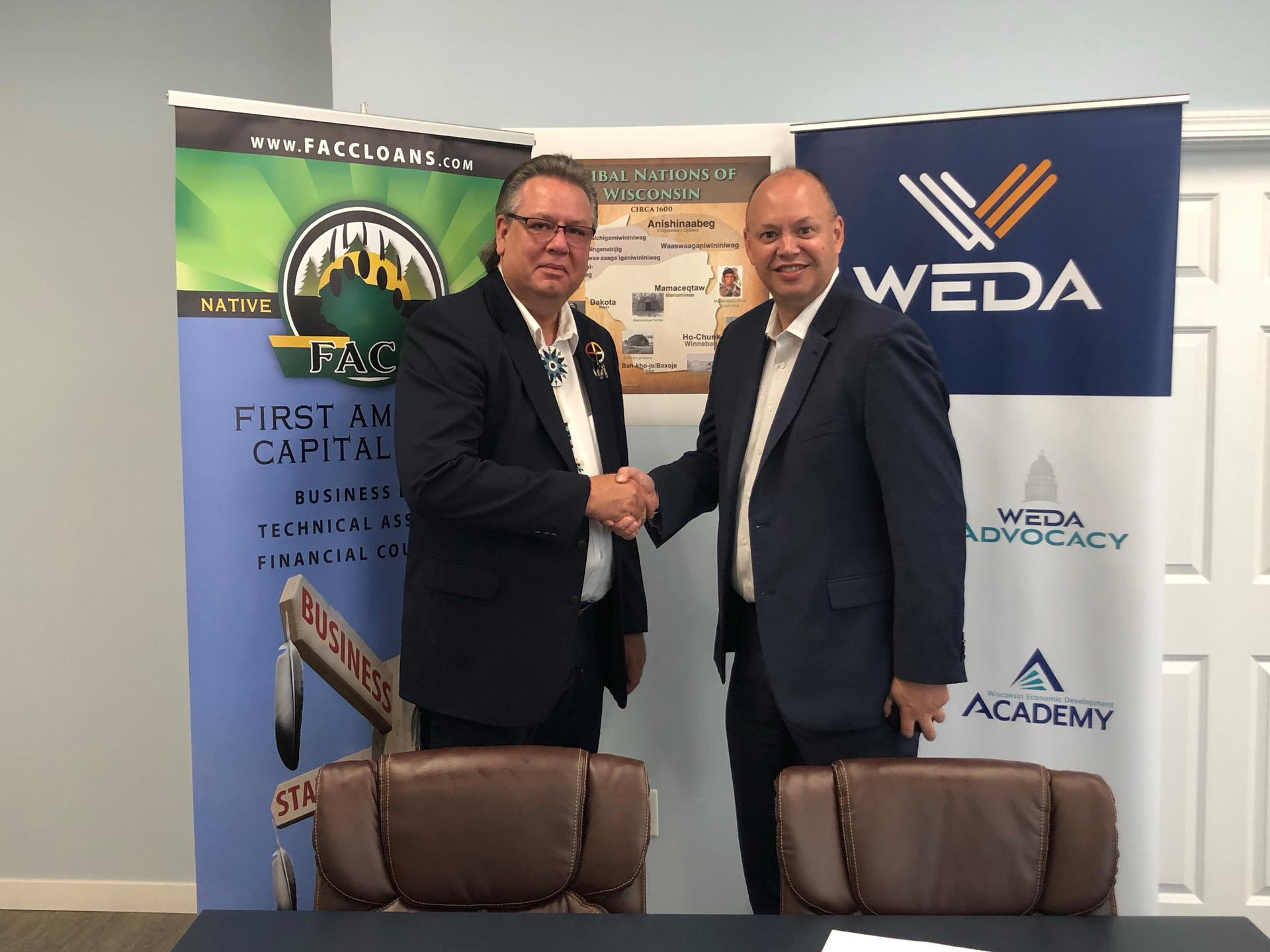 "The American Indian Chamber of Commerce of Wisconsin and First American Capital Corporation (AICCW-FACC) is excited to partner with WEDA to provide Native businesses and communities with expanded educational and networking opportunities to help drive the economy," said Craig Anderson, AICCW-FACC Executive Director. "Both organizations have long been committed to creating a climate for economic growth in Wisconsin, and by working together, I'm confident we will be even more successful."
The agreement builds on the past achievements of each organization, paving the way for WEDA and AICCW-FACC to collaborate on educational programming, events and other initiatives that support economic development and business success. To accomplish these goals, the MOU aims to:
Facilitate greater collaboration between WEDA and AICCW-FACC on economic development seminars, conferences and training for Native American businesses and communities.
Create partnerships with business development stakeholders to provide additional technical assistance options for Native American entrepreneurs.
Identify and facilitate workshops to meet the diverse community and business development goals of American Indian communities.
"Our association continues to expand our reach and deliver technical services designed to meet the diverse needs of the community and economic development profession," said Brian Doudna, WEDA Executive Director. "WEDA will work with our members, similar to the American Indian Chamber of Commerce of Wisconsin-First American Capital Corporation, to develop and implement targeted solutions to address gaps in this rapidly changing economy."
---
Executive Director's Corner: Brian Doudna, EDFP
WEDA and WEDI – Transforming Our Services
In the past several weeks, I have been fortunate to have meetings with several of our long-term members. Each of them mentioned the transformation of the new look WEDA as part of our conversation. Back in 2017, our logo was modified to signify the new direction and the web site launch.
A new look web site doesn't necessarily bring changes in services, but the WEDA Board was simultaneously advancing its vision on the Economic Development Academy, CRA Network, and committing to full-time staff for advocacy. For all past board members and committee members, I want to simply thank you for your efforts in building the current model. I am also very fortunate that WEDA has been able to make strategic hires who believe in and are implementing this model. Kathy Davies, Kathy Heady, Michael Welsh and Mike Harrigan are all valuable parts of the WEDA model and team!
Over the next 18 months, WEDA will continue to build upon the service model by aligning some of our new services with efforts that incorporate our foundation, the Wisconsin Economic Development Institute (WEDI). As a foundation, WEDI structure will help to position our efforts for a broader audience. The foundation's business model effort is being led by Mike Mathews, Rob Kleman and the WEDI Board of Directors. I want to thank Mike, Rob and the WEDI Board of Directors for their efforts in restructuring the services of the foundation. I ask that you please sign up for either of the October 2nd afternoon events (golf and agri-business tour), these are fundraisers for WEDI.
2020 Governor's Conference Planning – Social Impact Investing
The 2020 Governor's Conference on Economic Development will have a focus on Social Impact Investing. This is an important trend that is providing social, economic and financial returns that are benefitting new projects and initiatives. Aligning financial and social resources has been part of economic and community development, but social impact investing changes the project capital stack in some very positive ways. So WEDA is seeking Governor's Conference committee members that can help in designing a conference that will inform us on the broad topic of social impact investing. Hopefully, the Governor's Conference can be a place where there is convergence of thought leaders from different sectors around social impact investing. Please email me if you are interested in the conference committee.
CRA Network – Networking Luncheons
The CRA Network lunches have been scheduled for the fall of 2019. Please sign up today for these events. They are free to the membership. Register online by visiting www.cranetwork.org
---
WEDC Bulletin
An Economic Development Update from the Wisconsin Economic Development Corporation
WEDC Grant to Assist Small Businesses on Milwaukee's
Northwest Side
WEDC awarded a $500,000 Capital Catalyst award to the Northwest Side Community Development Corporation (NWSCDC) in Milwaukee to assist its targeted small business startup loan fund.
NWSCDC will provide $500,000 of seed funding, to be matched by funds from WEDC's Capital Catalyst Program, for a total of $1,000,000 to be added to a designated loan pool. This pool will serve startups and small businesses, particularly women- and minority-owned businesses, working in local industry clusters, especially those in energy and power, food and beverage and water technology.
NWSCDC's loan funds serve early stage companies that are generating some revenue but are not yet profitable. NWSCDC executive director Howard Snyder and director of lending Willie Smith will also provide specialized technical assistance and mentoring to these small businesses working to connect with local industry clusters.
---
Nexus Pharmaceuticals to Build Sterile Injectable Manufacturing Facility in Pleasant Prairie
Nexus Pharmaceuticals, a woman-owned, privately held
healthcare company that produces specialty and generic injectable drugs,
announced that Nexus has selected Pleasant Prairie as the location for its
first production facility.
The Pleasant Prairie operation will support the production
and supply of drugs in an array of therapeutic areas, including anesthesia,
oncology, cardiovascular and neurology. Nexus' proprietary products are
currently contract-manufactured by third-party providers located primarily in
Europe.
The multi-phase project is expected to be completed
within ten years, with an estimated total investment of $250 million. In the
project's first phase, Nexus will invest $85 million to build and equip a
100,000 square foot, three-story production operation, construction of which
will begin in August and be completed by 2021. After the facility and equipment
are qualified, and subsequently approved by regulatory agencies, commercial
production is expected to begin in 2022. Nexus will hire 70 workers (high-tech
production, analytical testing, engineering, quality control and supply chain
management) as part of the project's first phase at an average annual salary of
$67,000.
WEDC is providing Nexus with $1.5 million in state tax
credits to support the first phase of the company's plans. The actual amount of
tax credits Nexus will receive is contingent upon the number of jobs created
and the amount of capital investment during that period.
---
City of Two Rivers receives $250,000 state grant to
support new downtown hotel
WEDC awarded a $250,000 state grant to the City of Two
Rivers to help finance the construction of a new downtown hotel.
The Community Development Investment (CDI) Grant will
support the construction of a Cobblestone Hotels & Suites, a 55-room,
four-story hotel located near the waterfront in downtown Two Rivers.
The hotel will be in the heart of the historic downtown
area with access to area restaurants, bars and retail shops, as well as bike
and pedestrian trails. Because of its location on the waterfront, the hotel is
just a few blocks from the popular beaches and several marinas that offer
charter fishing on Lake Michigan.
---
Sub-Zero Group Inc. expands operations in Fitchburg
Sub-Zero Group Inc., the industry leader in premium
refrigeration cooking and dishwashing appliances, is expanding its operations
in Fitchburg with a new 350,000-square-foot research and development facility—a
$70 million project expected to create 100 jobs over the next three years.
Founded in 1945, the third-generation, family-owned
company is headquartered in Madison and currently operates manufacturing
facilities in Fitchburg and Goodyear, Arizona. The new facility will serve as a
research and development center that will drive innovation for next-generation
products.
WEDC is supporting the project authorizing up to $1
million in state income tax credits over the next four years. The actual amount
of tax credits Sub-Zero will receive is contingent upon the number of jobs
created and the amount of capital investment during that period.
In addition to the 100 jobs expected to be created by the
company, an economic modeling study estimates the project could indirectly
generate 122 additional jobs in the region. Those 222 new jobs are expected to
generate $2.8 million in state income tax revenue over a five-year period.
---
City of Delavan receives $250,000 state grant to
redevelop new downtown apartment building
WEDC awarded the City of Delavan a $250,000 state grant
to help finance the redevelopment of the historic George W. Borg Corporation
facility into a new mixed-use apartment building.
The Community Development Investment (CDI) Grant will
support the renovations and adaptive reuse of an important historic building
into the new Brass Works Apartments, located at 820 East Wisconsin Street in
Delevan.
The mixed-use project, which represents a $16 million
direct investment, will include 73 loft-style apartments as well as 1,000
square feet of commercial space on the street level. Renovations will include
the complete gutting of the building, full structural stabilization and
renovation, replacement of historic windows, a new roof and remediation of
existing environmental contamination.
---
City of Madison receives $250,000 state grant to
support redevelopment of former Oscar Mayer facility
WEDC awarded the City of Madison a $250,000 state grant
for the redevelopment of the former Oscar Mayer facility into a business and
light industrial park called the Old Madison (OM) Station.
The Community Development Investment (CDI) Grant will
support the renovation and restoration of a 58,000-square-foot building, known
as Building 20, that was constructed in 1939 and previously served as a garage
and machinist shop.
Once redeveloped, Building 20 will provide a unique
retail and commercial flex space in Madison. Renovations will include sewer and
plumbing work, construction of pedestrian entryways and significant masonry
work, as well as energy-efficient upgrades. The building will also require
environmental remediation to remove asbestos.
---
City of Jefferson receives $250,000 state grand to
develop new downtown apartments, artist studio
WEDC awarded a $250,000 state grant the City of Jefferson
to fund the construction of a new apartment building and artist incubator
studio.
The Community Development Investment (CDI) Grant from
WEDC will support the mixed-use Candise Street Lofts development, which will
include 36 loft-style apartments as well as a 1,300-square-foot Arts Incubator
Studio.
The $10 million redevelopment project, undertaken by
developer Gorman & Company, will include the renovation of a historically
significant former industrial building that has been vacant since 2012. The
project site, constructed in 1916, has a long history of industrial use and has
undergone several expansions and renovations in its capacity as a manufacturing
facility.
In addition to increasing affordable housing options in
downtown Jefferson, the project will also provide a space for artists with the
Arts Incubator Studio. The studio will be located on the first floor of the
building and will provide programming, workshops and trainings for artists in
the community, as well as providing a space for nonprofit or advocacy groups
looking to support artists.
---
Robinson Metal establishes operations in Manitowoc
Robinson Metal, a custom metal fabricator, is
establishing a manufacturing facility in Manitowoc—a $2.6 million project expected
to create 94 jobs over the next three years.
Robinson Metal plans to acquire a 112,000-square-foot
facility previously owned by Manitowoc Crane that will be used to facilitate
the company's growth in three divisions: custom enclosures, pipe and vessel
fabrication, and fabrication and machining. The new facility will allow the
company to expand its capacity and increase revenues.
WEDC is supporting the project by authorizing up to
$350,000 in state income tax credits over the next three years. The actual
amount of tax credits Robinson Metal will receive is contingent upon the number
of jobs created and the amount of capital investment during that period.
---
Wisconsin Economic Development Academy Update: Kathy Heady, Academy Manger
Have you achieved your AICP, CEcD or EDFP
certification? Are you looking for
affordable quality continuing education opportunities to maintain your
certification? WEDA is now a recertification
trainer for the National Development Council (NDC). Most of our programs are approved for
recertification points by the International Economic Development Council (IEDC)
for CEcD professionals. WEDA has also entered
a MOU with the American Planning Association (APA)-WI chapter for providing
AICP continuing education programming. Be
sure to look for approved credits/points when registering for a WEDA Academy
course.
The Academy recently held two programs. The Development Agreement Fundamentals
webinar was held on June 25th and featured instructors Katherine (Katie) C.
Hinkle, Associate Attorney, Michael Best & Friedrich LLP and Charlie
Walker, CEcD, President and CEO, Chippewa County Economic Development
Corporation. The program introduced
development agreements, including what an agreement is and when it is used, essential
elements, best practices, and community perspectives.
The second program – Impact Through Redevelopment, was
held on July 17 prior to the Mid-America Economic Development Council 2019 Best
Practices Conference in Milwaukee. Our
experienced team of course instructors Kristen Fish-Peterson, CEcD,
Principal/CEO Redevelopment Resources, John F. Stibal, Development Department
Director, City of West Allis, and facilitator Kathryn Berger, JD,
Manager-Business Development, CG Schmidt, Inc. shared their redevelopment
expertise in a dynamic and interactive session.
Topics covered included steps to effective redevelopment strategies;
methods of evaluating projects; the when, why and how to engage the public; and
communication tips and financial tools.
Participants had an opportunity to share stories about their experiences
and to work together through a case study.
As a bonus, interested participants were offered a chance to stay and
discuss projects in their communities after the formal program ended.
This fall will be a busy time for Academy programming.
Registration is now open for Fostering Entrepreneurial Food and Agriculture
Enterprises. This in-depth program will
be held at SentryWorld in Stevens Point from 8:30 a.m. to noon on October 2,
prior to the WEDA Fall Conference.
Instructor Terra Johnson, Director of the UW System Food Finance
Institute, is a serial entrepreneur whose mission is to create the next
generation of environmentally and economically regenerative food and farming
businesses. Through this interactive
course, economic development professionals and business leaders, will learn
about what companies and farms really need and how addressing these needs can
become the basis for a multidimensional sector development strategy for food
and agriculture.
As a bonus, WEDA/CRA Network members can bring an
entrepreneur for free with one paid member workshop registration. Additional Fall programs include a housing
fundamentals webinar planned for September and a mixed-use development in-depth
training with the NDC in November. Stay
tuned for registration information.
Planning is underway for 2020 Academy programming. Please reach out to me at kheady@weda.org if you have any program recommendations or if you are interested in serving as an instructor.
---
Guest Column: Promoting Economic Growth in Wisconsin

By Wisconisn State Representative Dave Murphy
Thank you for the opportunity to tell you about a few legislative proposals I'm working on to promote economic growth and boost the state's workforce.
Keeping
College Graduates in Wisconsin
Assembly Bill 174 gives
UW System and Wisconsin Technical College System (WTCS) graduates the ability
to earn "in-state tuition" by living, working, and paying taxes in Wisconsin
for at least two years after graduating. This would
address our workforce needs quickly, efficiently, and potentially at no
net cost to the state.
Wisconsin residents pay a
reduced tuition rate at UW and WTCS campuses, due to their tax contributions to
these institutions over the years. I want new Wisconsinites to be able to earn
partial in-state tuition after contributing to our state's economy.
If it becomes law, the
proposal would appropriate $15 million to the Higher Educational Aids Board
(HEAB) to administrator the program and start paying out grants to individuals
who meet the qualifications specified in the bill and administrative rules.
Individuals may earn the
grant for up to five consecutive years, as long as they continue to live and
work in Wisconsin. If they leave or stop working, they'd no longer be eligible
to receive the grant. Since the grant is contingent on individuals living and
working in our state for at least two years, the grant could easily pay for
itself as the tax base is grown.
The total amount a
graduate may earn over five years would be worth up to 50 percent of the difference
between in-state tuition and non-resident tuition that the graduate was charged
during their time as a student. The grant is taxable income, reducing the
future fiscal impact on the state budget. Additionally, we ask the Dept. of
Workforce Development to publicize the grant with a logo and website aimed at
recognizing employers that hire edible graduates and connect these businesses
with students. WEDA has been a partner in drafting this legislation.
Increasing
Research Money in Wisconsin
Anyone who has started a business understands
just how important it is to act quickly, especially when patents are involved.
Unfortunately, Wisconsin delays the ability for a University of Wisconsin (UW)
System employee to enter into a research contract with the university by up to
45 days. These delays don't occur elsewhere and drive research opportunities
out of the state. In 2015 alone, UW–Madison saw nearly $100 million less in
private and non-profit research funding than other comparable universities
around the country. My bill, Assembly Bill 38, eliminates this unnecessary
bureaucratic delay in the UW System research contracting process.
Current law generally prohibits state employees from participating in state contracts where they have a private financial interest and the ability to influence that contract. The law has a specific exemption for university employees when such contracts are between a UW System entity and a research company. This exemption allows UW faculty and research-focused employees who spin-off companies to engage in activity that benefits the interests of the public, the university, and the newly created business. The current exemption requires all contracts to be reviewed by the Board of Regents through a 45 day passive review process, which by default has become a 45 day delay in executing research contracts involving UW employees.
Managing conflicts of interest is something best done on the ground by people who are familiar with the individuals involved and engaged in the work being done. Every UW institution already has in place an efficient and effective means of managing conflicts of interest at the campus level. Our bill simply eliminates the 45 day delay and allows the institution to move forward with a contract when any interest that an employee has in the research company has been evaluated and addressed in a management plan. The Board of Regents will still maintain authority to override these decisions under statute if it ever becomes necessary to do so.
WEDA supports both Assembly Bill 174 and Assembly Bill 38. They can be reviewed on WEDA's Bill Tracker.
---
WEDA Legislative Update
On July 3, Governor Tony Evers – after issuing 78 vetoes – signed the 2019-21 state budget bill into law. The two-year, $82 billion spending plan included a handful of initiatives to help boost economic development. More important was what was removed from the bill during the budget process, including a proposal that would have significantly diminished the value and use of TIF across Wisconsin.
Now that the state budget has been signed, sealed and delivered, the Legislature will hopefully turn their attention to other pressing matters, including proposals to address the state's workforce shortage, incentivize the development of workforce housing and strengthen key economic development tools.
In fact, the WEDA Government Affairs Team is working on the following initiatives as we head into fall:
Transportation Economic Assistance (TEA) Grant Bill (SB 319/AB 343) –
For over 30 years, the TEA Grant program, which is administered by the WI Department of Transportation (DOT), has provided funding for transportation improvements critical to economic development and has helped retain and create thousands of jobs in communities across the state. In fact, the program has awarded funding to projects that have created 27,000 new jobs and retained more than 19,000 jobs..
This
important economic development program was recently weakened when the DOT
conducted a legal review of the program and determined
they did not possess the statutory authority to provide grant funding for jobs
retained – and going forward could only support projects that create new jobs. Not
only did this change of course diminish the value of the program, it disregards
the importance of job retention in maintaining vibrant communities.
SB 319/AB 343 will restore the TEA Grant program's long history of awarding project funds for both job creation and job retention. The legislation has broad bipartisan support and will receive a public hearing next month before both the Senate and Assembly Transportation Committees.
Opportunity Zone Enhancement Act – In 2017, Congress enacted the federal Opportunity Zone Program to help drive long-term private capital to economically challenged rural and urban communities across the country. Each state has designated a set number Opportunity Zones into which private investment can flow through Opportunity Funds – a new private investment tool authorized to invest in Opportunity Zone projects. Wisconsin has 120 Opportunity Zones.
Investors realize the following tax benefits if they reinvest unrealized capital gains into an Opportunity Fund: 1.) Deferral of capital gains tax until 2026; 2.) Reduction of original capital gains tax by 10% after 5 years, and by 15% after 7 years; and 3.) A permanent exclusion from taxable income of capital gains from the investment in an Opportunity Fund. Last session, Wisconsin incorporated the federal tax provisions related to Opportunity Zones into state law;
WEDA's proposed legislation would double the Opportunity Zone tax incentives at the state level for Wisconsin investors who invest In Opportunity Funds that in-turn hold at least 90% of their assets in Wisconsin Opportunity Zone property. The bill will help drive much-needed, long-term investments to communities across Wisconsin.
The legislation was redrafted to incorporate a handful of necessary technical modifications recommended by industry tax experts and should be ready for introduction and further consideration by the Legislature next month.
Workforce Housing Development Tax Incentive – Communities across Wisconsin are dealing with a growing rental and workforce housing shortage, which negatively impacts talent attraction efforts and stalls economic growth. WEDA is working on legislation that would help encourage the development of workforce housing by creating a sales tax exemption on building equipment and supplies purchased to construct workforce housing. The legislation should be introduced by early fall.
The WEDA Government Affairs Team is also working with stakeholders on a number of other potential workforce housing initiatives, including:
Extending the current law TIF "housing improvement extension" from one year to two years.
Increasing the percentage of residential use allowed in a mixed-use TIF.
Creating a transferable tax credit for the construction of workforce housing.
If you have any legislative-related questions or would like additional information on WEDA's advocacy efforts, please contact WEDA Legislative Affairs Director Michael Welsh at mwelsh@weda.org.
---
Forward Analytics Releases New Report – An Economic Evolution: Job Growth, Pay and Education Since 2012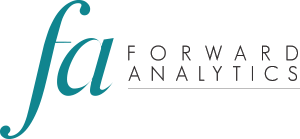 Forward Analytics has released An Economic Evolution: Job Growth, Pay and Education Since 2012. The report, from the research division of the Wisconsin Counties Association, shows a growing economy that is evolving into one in which jobs require more education and skills. It also documents an economy in which job growth is not occurring in low paying occupations, but rather in those further up the pay scale.
"Since 2012, Wisconsin has experienced both strong job growth and an unemployment rate falling to record lows. These trends have been well documented," said Director of Research and Analytics Dale Knapp. "What has been less studied are the kinds of jobs created during this period. Our new report tackles that question, as well as the types of education needed for those jobs."
Occupational data from the U.S. Bureau of Labor Statistics (BLS) for 2012 and 2018 show that new jobs were more likely to be on the higher end of the pay scale and disproportionately required post-secondary education. Annually, BLS reports information on the number of jobs and their pay distribution for more than 800 occupations.
Pleas click here to read the entire report.
Forward Analytics is a Wisconsin-based research organization that provides state and local policymakers with nonpartisan analysis of issues affecting the state. The mission of Forward Analytics is to use the best data available to highlight challenges facing the state, and to assist policymakers in understanding that data so they can make informed policy decisions.
---
Welcome New WEDA Members
WEDA would like to welcome and thank the following new members for joining the Association:
Brittany Beyer, Grow North Regional Economic Development Corporation
Paul Hoffmann, Monona Bank
Melissa Meschke, Small Business Development Center – UW Stevens Point
Marty Olejniczak, City of Sturgeon Bay