In This Edition…
President's Message
Executive Director's Corner
WEDC Bulletin
Wisconsin Economic Development Academy Update
Guest Column: WI Department of Revenue Secretary Peter Barca
WEDA Legislative Update
Apply to Partner with UW-Madison's UniverCity Year
Welcome New WEDA Members
---
President's Message: Matt Mikolajewski
Late spring means graduation! Commencement ceremonies and related parties seem to dominate the calendar this time of year. Of course, graduation is really just the beginning of one's education, not the end. One of the great benefits that you have of being a WEDA member is the opportunity to continue your education through the variety of training programs that WEDA offers.
As described further in the Academy Update section, WEDA hopes to offer additional course work related to mixed-use development, affordable housing, and redevelopment in the months ahead. Please take the opportunity to further your post-graduation studies by attending one of these sessions.
Some WEDA members are Economic Development Finance Professionals (EDFP) through the National Development Council (NDC). As a reminder, many of us will be required to demonstrate that we have completed the necessary continuing education requirements in 2020 to maintain our certifications. WEDA has now been approved as a recertification trainer through NDC.
We are still working on determining what previous and future WEDA activities will count toward re-certification and we will provide more information about this topic in the months ahead. This illustrates another way in which WEDA can help you further your career.
The CRA Network recently reached an important milestone with the decision by WBD to continue the program after its first successful year. I want to personally thank WBD for their continued support of this effort. Seventeen banks are now CRA Network members and a handful of investments are already in the process of being completed.
With your help, we look forward to even more success in the second year of the program ahead of us. Many of the member banks are local and deeply rooted in their communities. If you believe a bank in your area would benefit from CRA Network membership, please let Brian Doudna know. Likewise, if you are pulling together the financing for a project in your community, please consider the CRA Network as a resource to help with your efforts.
As economic development practitioners, we understand the important role that our corporate neighbors play in the health of our communities. Did you know that corporate members likewise allow WEDA to provide its great level of service to you and your fellow economic development colleagues? Over a dozen businesses have made a commitment to WEDA by becoming a corporate member.
You can see who they are by visiting our homepage at www.weda.org. WEDA would not be able to provide our level of programming and advocacy without the financial foundation provided by these organizations. We are grateful for their support and welcome other businesses to join these companies by becoming new corporate members. If you believe your employer might be interested, please contact Brian Doudna.
---

Executive Director's Corner: Brian Doudna, EDFP
WBD, Inc. Continues Sponsorship of CRA Network in 2019-20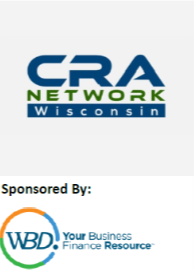 WEDA has received very exciting news that the WBD, Inc. Board of Directors voted to continue the statewide sponsorship of the CRA Network of Wisconsin as outlined in the Memorandum of Understanding (MOU) signed in May, 2018. Of the six MOU measurements, the only measurement not met was total number of banks as paid WEDA members. WEDA has 17 banks as members of the CRA Network and the measurement was 20 banks.
The CRA Network has completed one year of operation and has been gaining traction in each of the six regions. The focus of the CRA Network business model is to help communities, developers and businesses advance their projects, while making banks aware of the CRA eligible activities of each of the submitted projects.
Our local economic development members can use the CRA Network as a method to organize a meeting with multiple banks to see deal flow that may not be part of your existing banking relationships.
As an association, WEDA has been advocating for policies and tools that advance CRA eligible projects. Now, our membership demographics and services are matching our current and past advocacy efforts involving breaking down silos and involving all sectors of getting a deal to market (private sector, community and financing).
Since the launch of the CRA Network, WEDA has taken several efforts to build out the organizational capacity to meet the targeted measurements. Some key items in the past year include:
October – November 2018: Fall regional luncheons held
January 2019: Video created explaining CRA Network membership
February 2019: CRA Officer/Bank Member elected to the WEDA Board
February 2019: Hired Mike Harrigan as contracted Project Recruiter for the southcentral, southeast and northeast regions.
March 2019: Proposed "Performance Context" service to assist intermediate and small banks with the data collected by bank examiners
April – May 2019: Spring regional luncheons held
Sponsorship Measurements – Need Your Participation
In 2019 – 2020, WEDA needs our general membership to be fully engaged in the CRA Network to meet our measurements for sponsorship renewal in 2020-2021 year.
Here is how you can become involved in the CRA Network:
Call the WEDA Office with questions on a potential project
Refer projects to your CRA Network Project recruiter, if the capital stack for the project has bank financing and maybe located in a priority area (e.g. TIF, redevelopment), low to moderate income census tracts or are benefiting that same population.
Attend the free regional meetings. The registrations are open. The meeting will discuss the financing needs in each region as part of the CRA Network Performance Context Service.
---
WEDC Bulletin

An Economic Development Update from the Wisconsin Economic Development Corporation
City of Fond du Lac receives $90,000 state grant to support redevelopment of downtown historical building
WEDC awarded the City of Fond du Lac a $90,000 state grant to assist in the redevelopment of a vacant commercial building into The Livery Lofts, featuring an upscale tavern and residential lofts.
The Community Development Investment (CDI) Grant will support the renovation of the building to improve the exterior façade and support the change from a fully commercial use to a mixed-use development.
The redevelopment project will require significant renovation to support the change to a mixed-use development. The Livery Lofts will feature an upscale tavern on the first floor and market rate apartments on the second floor. An existing asphalt parking lot will also be redeveloped into a new outdoor dining area for the tavern.
---
$189 million ND Paper project receives WEDC support
WEDC announced an agreement to provide ND Paper with $1.7 million in tax credits over three years to support the company's expansion at its Biron division—a project expected to create 27 new jobs.
ND Paper, a U.S.-based subsidiary of Nine Dragons Paper, is planning several major projects, including the conversion of the B25 paper machine from white papers to containerboard products, construction of a two-line greenfield recycled pulp facility and the construction of a water treatment and fiber recovery plant.
The actual amount of state income tax credits the company receives is contingent upon the number of jobs created and retained, and the amount of capital investment the company makes through 2022. As is the case for all WEDC tax credits, ND Paper must first create the jobs and make the capital investment before receiving any credits.
---
Advanced Composite Products and Technology establishes operations in Wisconsin
Advanced Composite Products and Technology Inc (ACPT), a manufacturer of composites, is establishing its first Wisconsin facility in Marathon County–a $5.2 million project expected to create 13 jobs over the next three years.
The project includes the acquisition and equipping of an existing production facility in Schoefield Industrial Park. At the facility ACPT will manufacture carbon fiber drive shafts, a component of Oshkosh Defense tactical wheeled vehicles.
WEDC is supporting the project by authorizing up to $150,000 in state income tax credits over the next three years. The actual amount of tax credits ACPT will receive is contingent upon the number of jobs created and the amount of capital investment during that period.
---
Centro Sperimentale del Latte establishes operations in Racine County
Centro Sperimentale del Latte (CSL) USA Inc., a probiotic company, plans to establish its first operations in the U.S. with a manufacturing facility in Racine County—a multimillion-dollar project expected to create up to 31 jobs over the next four years.
Centro Sperimentale del Latte's related entity, PROBIO RE LLC, has recently purchased its first U.S. location, with plans to establish a newly constructed manufacturing facility on a 25-acre site in Franksville. The facility will produce probiotics and related materials.
The company chose the facility due to the growing probiotic supplement market in the U.S. as well as the close proximity to specialty cheesemakers throughout Wisconsin.
WEDC is supporting the project by authorizing up to $350,000 in state income tax credits over the next four years. The actual amount of tax credits Centro Sperimentale del Latte will receive is contingent upon the number of jobs created and the amount of capital investment during that period.
---
Faith Technologies expands operations in Outagamie County
Faith Technologies Inc., a leading electrical planning, engineering, design and installation expert, is expanding its Excellerate division with the construction of a new manufacturing facility in Little Chute—a $20 million project expected to create 275 jobs over the next three years.
Construction on the 225,000-square-foot facility is now underway and expected to be completed later this year. A natural energy microgrid, also built by Faith Technologies and Excellerate Manufacturing, will allow the building to be operated off the traditional energy grid.
Excellerate, a subsidiary of Faith Technologies, is an electrically focused manufacturer of made-to-order assemblies through custom-engineered construction solutions that drive cost savings, schedule compression and safety excellence. Excellerate serves the energy, manufacturing, supply chain and construction landscape.
WEDC is supporting the project by authorizing up to $800,000 in state income tax credits over the next three years. The actual amount of tax credits Faith Technologies will receive is contingent upon the number of jobs created during that period.
---
WEDC approves tax credits for new Amazon facility in Oak Creek
WEDC has approved awarding state income tax credits to support Amazon's plans to build a 640,000-square-foot fulfillment center in Oak Creek—a project expected to create 1,500 jobs.
Amazon plans to build the $200 million facility in the Ryan Business Park at Ryan Road and I-94.
WEDC is awarding the company with up to $7.5 million in tax credits for job creation and capital investment for any investments Amazon makes in Wisconsin. The actual amount of credits the company will receive is contingent upon the number of jobs created and the amount of capital investment the company makes through 2024.
This catalytic project will be the first-of-its-kind robotics sorting center for Amazon. The newly constructed 640,000-square-foot fulfillment center will be the flagship facility and will represent the company's largest investment in Wisconsin, both in terms of capital expenditures and in terms of new jobs.
---
20 Wisconsin school districts awarded Fab Labs Grants
Governor Tony Evers and WEDC announced that 20 school districts throughout the state have been awarded a total of more than $500,000 in grants to establish or expand local fabrication laboratory (fab lab) facilities.
Governor Evers has declared May 13 as Fab Lab Day in Wisconsin, and to mark the occasion, he and Lt. Governor Barnes, along with WEDC Secretary and CEO Mark R. Hogan and other key state leaders, visited eight school districts to present the grants and celebrate their successes.
A fab lab is a high-technology workshop equipped with computer-controlled manufacturing components such as 3D printers, laser engravers, computer numerical control routers and plasma cutters. Through its Fab Labs Grant Program, WEDC is supporting the purchase of fab lab equipment for instructional and educational purposes by elementary, middle, junior high or high school students.
The following school districts were awarded Fab Lab Grants:
Abbotsford (Clark and Marathon Counties), $25,000
Beloit Turner (Rock County), $25,000
Brown Deer (Milwaukee County), $25,000
Fall River (Columbia County), $25,000
Grafton (Ozaukee County), $25,000
Hayward (Sawyer County), $25,000
Lakeland Union High School Consortium (Oneida County), $41,628
Maple (Douglas County), $22,937
Merrill (Lincoln County), $24,761
Milwaukee Public Schools (Milwaukee County), $25,000
Mount Horeb (Dane County), $25,000
Necedah (Juneau County), $12,220
Southern Door (Door County), $25,000
Francis (Milwaukee County), $25,000
Thorp (Clark County), $24,157
Three Lakes (Oneida County), $20,640
Wabeno (Forest County), $25,000
Wauwatosa (Milwaukee County), $24,056
Whitehall (Trempealeau County), $50,000
Wisconsin Rapids (Wood County), $25,000
---
WEDC awards $150,000 grant to support new food and beverage talent outreach program
WEDC awarded a $150,000 grant to Food and Beverage (FaB) Wisconsin to support the organization's Talent Outreach Program (TOP) Initiative, a new project designed to promote talent outreach and development in the food and beverage manufacturing industry.
FaB Wisconsin has identified talent outreach and development as a top priority for the food and beverage manufacturing industry. In response to industry input, FaB Wisconsin designed a new statewide talent outreach initiative, aimed at providing industry outreach and educational programming.
The TOP Initiative consists of five components designed in partnership with key stakeholders and private sector leaders to be implemented over a two-year period:
FaB Inspire Portal: Creating a portal for food and beverage businesses to easily connect with regional entities supporting the Inspire Wisconsin platform designed to connect today's businesses with tomorrow's talent
FaBsafe Certification for High Schools: Developing and piloting a high school version of FaB's food safety training certification, which will serve as an industry employment or career pathway on-ramp
FaB Universities: Developing a collective of high schools, colleges, universities and workforce development entities that offer industry-specific academic and training programs in the food and beverage industry
FaB Farm-Factory-Fork: Expanding and extending FaB's high school career discovery initiative, which was established to engage schools, students and businesses to reach more students about lifelong career opportunities in the industry
FaB Council Talent Needs Assessment: Conducting a statewide survey on effectiveness of tools and emerging needs in the food and beverage industry
---
WEDC awards $750,000 grant for new beverage innovation center of excellence
WEDC awarded a $750,000 grant to the Center for Dairy Research (CDR) to establish the Beverage Innovation Center, a new center of excellence that will provide resources to small businesses to test and develop new beverage products.
The Beverage Innovation Center will be a modular pilot plant with an aseptic processing and bottling system for small businesses to produce small batch amounts of packaged beverages that can be used as prototypes in testing and optimizing formulas. The pilot plant will provide entrepreneurs access to CDR expertise, licensed space and equipment. With this access, clients will be able to test and fine tune the scalability of their prototypes in a production environment.
One of the advantages of the center is that it will provide entrepreneurs with the opportunity to run small-scale trials. Most aseptic processing and bottling systems run large-scale quantities, which are cost prohibitive for most entrepreneurs.
The project also includes the creation of the Client Development and Growth Program for qualified clients of the Technology, University, Research, Business, Opportunities (TURBO) program. This program will provide access to consultants for technical advice in identifying new markets, ensuring regulatory compliance, evaluating production costs and return on investment, packaging design and grant-writing assistance. Consulting services will be specifically targeted to Wisconsin companies that have fewer than 50 employees and are located in rural areas.
---
Wisconsin Economic Development Academy Update
By Kathy Heady – Manager, WI Economic Development Academy
The Wisconsin Economic Development Academy spring/summer programming schedule provides several excellent opportunities for you to build or refresh your skills.
Our first Academy webinar, Tax Incremental Financing Fundamentals was held on April 30th. Our instructors from Ehlers & Associates, Inc., Dawn Gunderson Schiel, CIPMA, CPFO, Senior Municipal Advisor/Vice President and Greg Johnson, CIPMA, Senior Advisor/Vice President presented a very informative program. According to the post webinar survey, 77% of those responding rated the webinar as very good or excellent and 90% indicated that the course material was very relevant or extremely relevant.
On June 25th at 1:30 p.m., the Academy will be holding its second webinar on Development Agreement Fundamentals. If you are new to development agreements or would like a refresher, this is the course for you. The webinar will provide a basic framework and understanding of development agreements, including what a development agreement is and when it is used, essential elements, best practices and community perspectives. Our instructors are, Charlie Walker, MPA, CEcD, President and CEO, Chippewa County Economic Development Corporation and Katherine C. Hinkle, Associate Attorney, Michael Best & Friedrich LLP. Registration is now open.
The Academy will also be holding an exciting program – Impact through Redevelopment – the morning of July 17 in Milwaukee just prior to the opening of the Mid-America Economic Development Council 2019 Best Practices Conference. This program will provide attendees with a framework for the redevelopment process and will include classroom style presentations, impactful case study examples as well as hands-on activities.
Attendees will learn steps to effective redevelopment strategies; methods for evaluating projects; the when, why and how to engage the public; and communication tips and financial tools.
Our experienced team of course instructors includes Kristen Fish-Peterson, CEcD, Principal/CEO Redevelopment Resources; Stephanie Hacker, AICP LEED AP, Principal/Practice Area Leader, Planning + Urban Design Group, GRAEF; John F. Stibal, Development Department Director, City of West Allis and Kathryn Berger, JD, Manager-Business Development, CG Schmidt Inc. Registration is open for this exciting opportunity to build an awareness and confidence level around effective redevelopment strategies to use in your community.
To round out the summer Academy schedule, we will be holding a housing webinar in July. Information and registration will be available in June. I hope you will be able to join us for one or more of these exciting and affordable educational opportunities.
---
Doubling the Refundable Research Credit from 10 to 20 percent

By WI Department of Revenue Secretary Peter Barca
Governor Evers understands how vitally important research and development is to the health and vibrancy of Wisconsin's economy. Innovation leads to the development of new or improved products and services which can lead to new jobs. Most importantly, those jobs tend to be family-supporting jobs with healthy wages and benefits.
For this reason, Governor Evers' proposed budget includes doubling the Refundable Research Credit. Beginning in tax year 2020, the governor recommends increasing the percentage of the research credit that is refundable from 10 percent to 20 percent to provide greater incentive for research and development expenditures in Wisconsin.
In order for an economy to grow and thrive, it must innovate and create. The talented workforce that we have in Wisconsin is the perfect catalyst for that innovation and creation, and it needs an environment that fosters both. Governor Evers feels strongly that doubling the Refundable Research Credit will provide business with an opportunity to conduct research in Wisconsin or, if they are already doing so, provide incentive to expand their research operations. Data shows that businesses claiming the credit are typically, but not exclusively, manufacturers. They conduct research to create new products or improve manufacturing processes. Growing these existing companies makes good economic sense.
Wisconsin's educational system is one of the best in the country. It provides its workforce with the knowledge base needed to compete in a global economy. Having spent his career in education, Governor Evers knows first-hand how investments made in our education system today pay dividends for generations to come. He also knows how important it is to connect the dots. Young, educated people want to work in innovative, creative environments and for employers investing in the future. Therefore, we should make strategic investments in those employers. Doubling the Refundable Research Credit is one way to do just that and keep those young, educated people right
---
WEDA Legislative Update
The Legislature's Joint Finance Committee began work reshaping Gov. Tony Evers' 2019-21 state budget bill earlier this month and over the past three weeks have made significant changes to the two-year, $84 billion spending bill.
As was reported by WEDA several weeks ago, the first budget motion debated and voted on by the committee removed roughly 130 items from the Governor's budget, including the provision to limit TIF developer grants to 20 percent of a district's total projects costs and the proposal to significantly reduce the manufacturing portion of the Manufacturing and Agriculture Tax Credit. WEDA opposed both provisions – as they would have severely weaken two key economic development tools – and actively lobbied for their removal from the bill.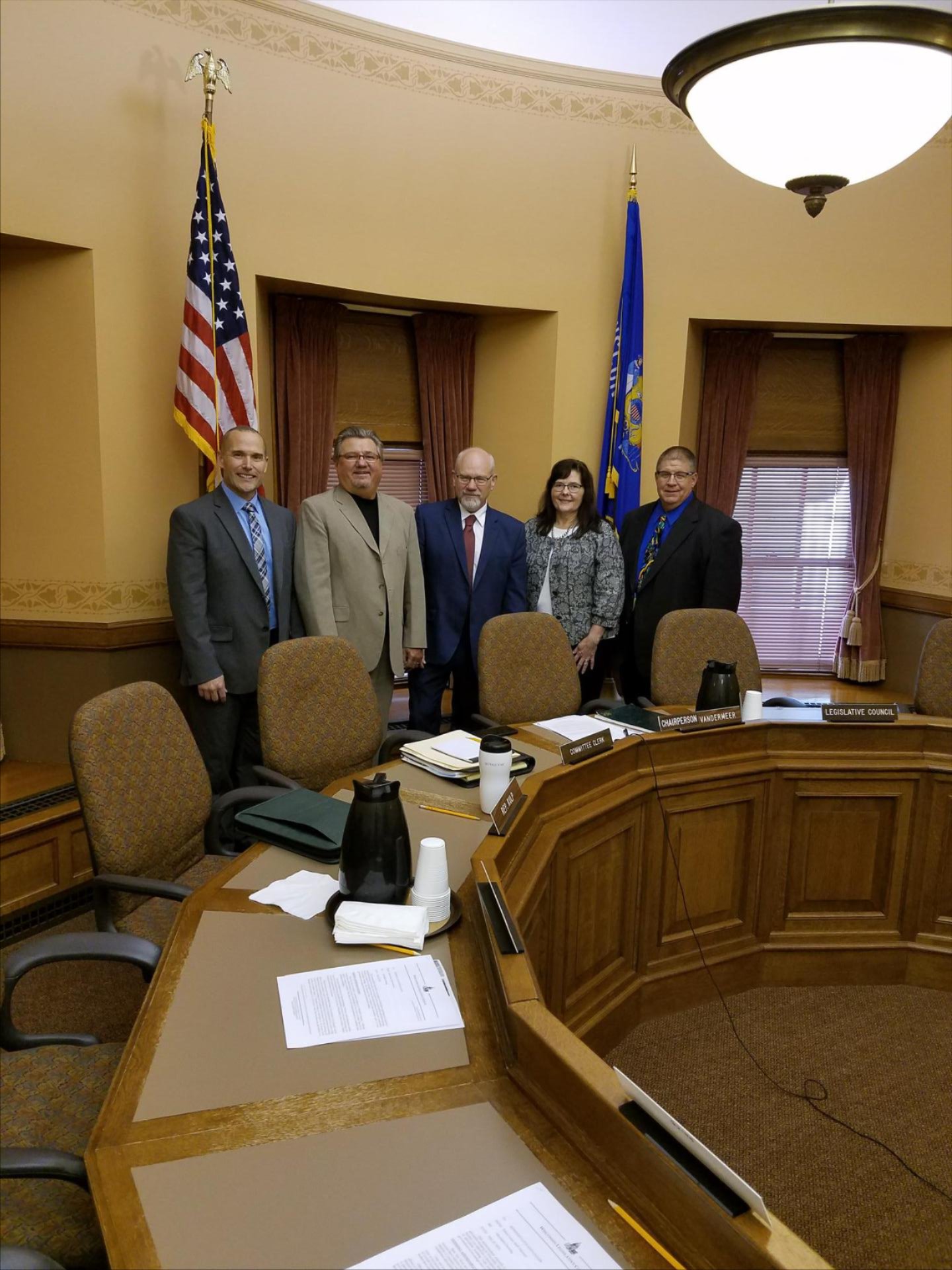 In addition to what was taken out of the bill, WEDA was pleased with recent action by the Finance Committee to increase funding for critical workforce training programs by $12.5 million over the biennium, including:
Career and Technical Education Incentive Grants – Provided an additional $3 million in each year of the biennium, for a total of $6 million for Career and Technical Education grants.
Youth Apprenticeship Grants – Provided an additional $2.76 million in each year of the biennium, for a total of $5.5 million for grants to local youth apprenticeship consortia.
Technical Education Equipment Grants – Provided an additional $500,000 in each year of the biennium, for a total of $1 million for the Technical Education Equipment Grant program.
The Committee also allocated funding from the Fast Forward program for grants to shipbuilders to train employees and to the Department of Corrections for mobile classrooms and job centers in minimum and medium security correctional institutions.
In addition, they voted to increase funding for the Wisconsin Technical College System by $25 million over the biennium.
WEDA will continue to monitor the progress of the budget and engage in the process to ensure economic development is well represented as the bill continues to be debated by lawmakers, who by statue have until the end of June to send the budget to Gov. Evers.
On a non-budget related legislative item, the WEDA Government Affairs Team would like to thank WEDA members Dave Armstrong (Barron County Economic Development Corporation), Steve Peterson (Monroe County Economic Development) and Ed White (Sauk County Development Corporation) for testifying this week before the Assembly Rural Development Committee on the issue of workforce housing in Wisconsin. They did a fantastic job representing WEDA and providing their knowledge on workforce housing and how the Legislature can help communities encourage more housing development.
---
Apply to partner with UW-Madison's UniverCity Year
UniverCity Year, a program aimed at finding practical solutions to community-based challenges, is seeking a new local government partner for the 2019-2022 academic years. The deadline to apply is July 29, 2019.
A three-year partnership between a Wisconsin county, or municipality and UW–Madison, UniverCity Year (UCY) engages with government partners through a simple process.
First, the partner identifies a set of issues questions (for example, health-related initiatives, park designs, sustainability projects, etc.). Then, UCY matches those priorities with UW–Madison courses where faculty and students develop recommendations. Finally, the local government partner receives research, reports, designs, and proposals, as well as help in implementing them.
As Cara Carper, executive director of the Green County Development Corporation said, "We see [UCY] as an opportunity to bring resources to issues that have been identified by our communities in their comprehensive plans and other planning processes, but without funding or staff, have been delayed. Green County is proud to participate in the UniverCity Year and support UW–Madison's commitment to the Wisconsin Idea by bringing the resources of the university to the farther reaches of the state."
Since 2015, UCY has worked with the City of Monona as well as three counties, Dane, Green, and Pepin, and engaged with hundreds of students and faculty members on dozens of projects in communities across Wisconsin. Together, UCY, students, faculty, and communities are finding feasible solutions that spark momentum towards a more sustainable, livable, and resilient future.
These efforts have proven to be a win-win for local governments and UW-Madison. As Monona Mayor Mary O'Connor noted, "Our return was definitely worth far more than our initial investment. The completed projects will save Monona tax dollars in the future because we will be able to go to consultants with refined project ideas, avoiding the time and expense of the initial development process."
Likewise, UCY managing director Gavin Luter stated, "Our students have the unique opportunity to study alongside accomplished professionals and insightful community members, which allows them to learn from their knowledge and experience," said Gavin Luter, UCY managing director.
If you have any questions about crafting your proposal, please contact Gavin Luter (gavin@cows.org; 608-261-1141). More information is also available online at www.univercity.wisc.edu/ucy.
---
Welcome New WEDA Members
WEDA would like to welcome and thank the following new members for joining the Association:
David Anderson, PFM Financial Advisors LLC
James Fenlon, Village of Little Chute
Steve Kunst, Town of Rib Mountain
Andrew Lombard, Bank of Sun Prairie
Peter Reichardt, Farmers & Merchants Bank
Keri Solis, Marquette County